New in 2017!!!
I recently sold my latest book to Scholastic, and it will be published in 2017. I hope to have updates soon, such as cover reveals, blurb reveals, release dates reveals and much more revealing. So please check back for updates, or subscribe to my newsletter (as soon as I get one up and running, which will hopefully be soon).
Wesley Booth Super Sleuth
My junior detective novel Wesley Booth Super Sleuth, was published by Scholastic Australia in July 2015 – so it is OUT NOW! Available via Scholastic Book Clubs and Book Fairs, and in all good bookstores, and probably bad ones too (although there isn't really any such thing as a bad bookstore, is there?).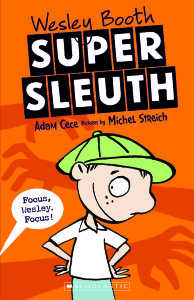 "Hub Hill Primary School is in the grip of a crime wave. Wesley Booth is a Super Sleuth, which is like a detective only awesomer, and this is his biggest (and first) real case. It's not easy when he has to deal with an arch enemy (new-girl-at-school Cassidy Strong), traitorous friends and incompetent assistants, prison warden parents, a delusional big brother, a client who wants to snap him in half like a stick, and over eighty-one million suspects. But he has to work out who the Heister is before his detective equipment gets confiscated and he is grounded forever."
Click here to find out where you can buy Wesley Booth Super Sleuth.
Or watch the totally brilliant book trailer for Wesley Booth below:
And if you want to find out more about me, my books, or just being an author, then please head on over to my Facebook Author Page, where I regularly post about my adventures in Author-land.
Thanks for visiting.
Adam.